Gratis levering

Gratis levering fra 439,00 kr

Personlig support

+45 78 75 48 75

Annulleringsbetingelser

Få øjeblikkelig support

Garanti

Garantiregulationerne ved lov er gyldige
Everlasting Treat Wheeler L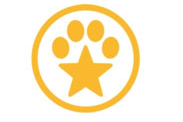 The Everlasting Treat Wheeler is great for keeping strong chewers occupied when capped with one or two Everlasting Treats.
Holds a Variety of Treats and Kibble
Use our unique Everlasting Treat with Dental Ridges or original Everlasting Treat in the top. Increase the challenge by adding smaller treats inside and in the grooves.
Made with Virtually Indestructible Material
Stronger than rubber and great for powerful chewers. Free of latex, vinyl, and phthlates.
Provides Hours of Challenging Play
Treat ball system encourages play which helps reduce anxiety and boredom behaviors.
Dab entire edge of treat with water, insert at an angle and push down. Best to let dry before giving to dog.
Available in small, medium, and large dog sizes. Dishwasher safe. Great for dental hygiene.
With all chew products and treats, pets should be supervised, as no product is completely indestructible. Pieces smaller than the mouth may present a choking hazard. When wet, treats may stain fabric and upholstery.
Snack legetøj StarMark Everlasting Treat Wheeler varianter
Everlasting Treat Wheeler L
Everlasting Treat Wheeler M
Everlasting Treat Wheeler S
Tilsætningsstoffer
Stivelse
Kyllingemel
Cellulose
Rismel
Vand
Glycerin
Citronsyre
Calciumcarbonat
Analytiske bestanddele
| | |
| --- | --- |
| Fugt | 15% |
| Råprotein | 7% |
| Råfiber | 2% |
| Råfedt | 1.5% |
Anbefales til følgend Hunderacer
Large, fra 26 kg
Anbefalinger til fodring
Feed as a treat. This product is intended for intermittent or supplemental feeding only.
Ansvarsfraskrivelse